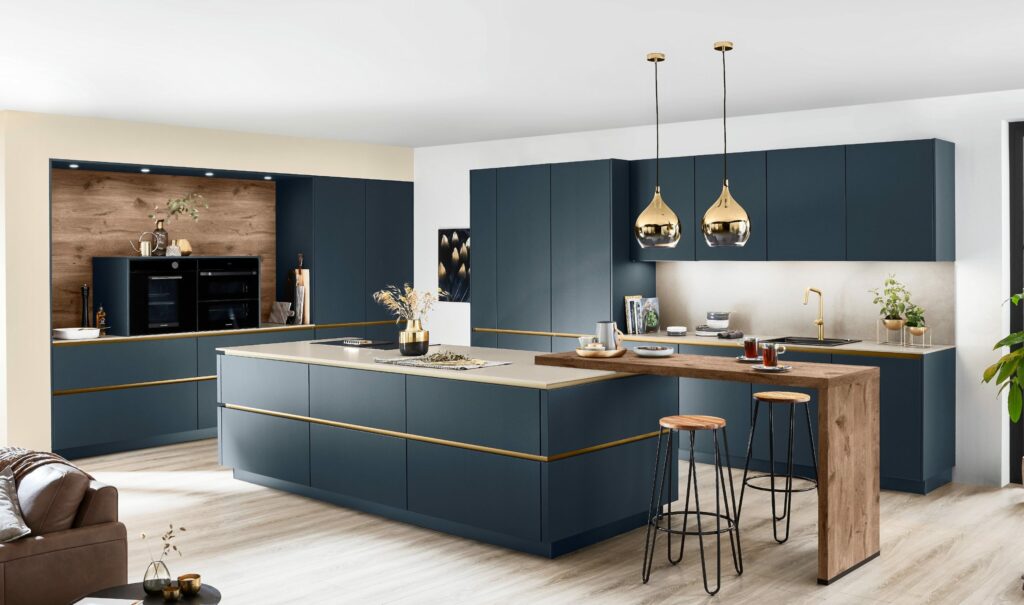 Fitted Kitchens in Dunstable
Need help planning your new fitted kitchen in Dunstable? …Joshua Donald Kitchens are rightly considered experts in the design, supply, and installation of fitted kitchens in Dunstable and the wider area. We specialise in German fitted kitchens from award-winning German kitchen brands Schuller, Nobilia, and Next 125. These innovative manufacturers produce predominately modern fitted kitchens, yet also offer a full range of traditional and shaker kitchens too. Successfully blending a sleek aesthetic with optimal kitchen functionality, German fitted kitchens are perfect for everyday family life and busy lifestyles! If you need a fitted kitchen in Dunstable, contact Joshua Donald Kitchens today.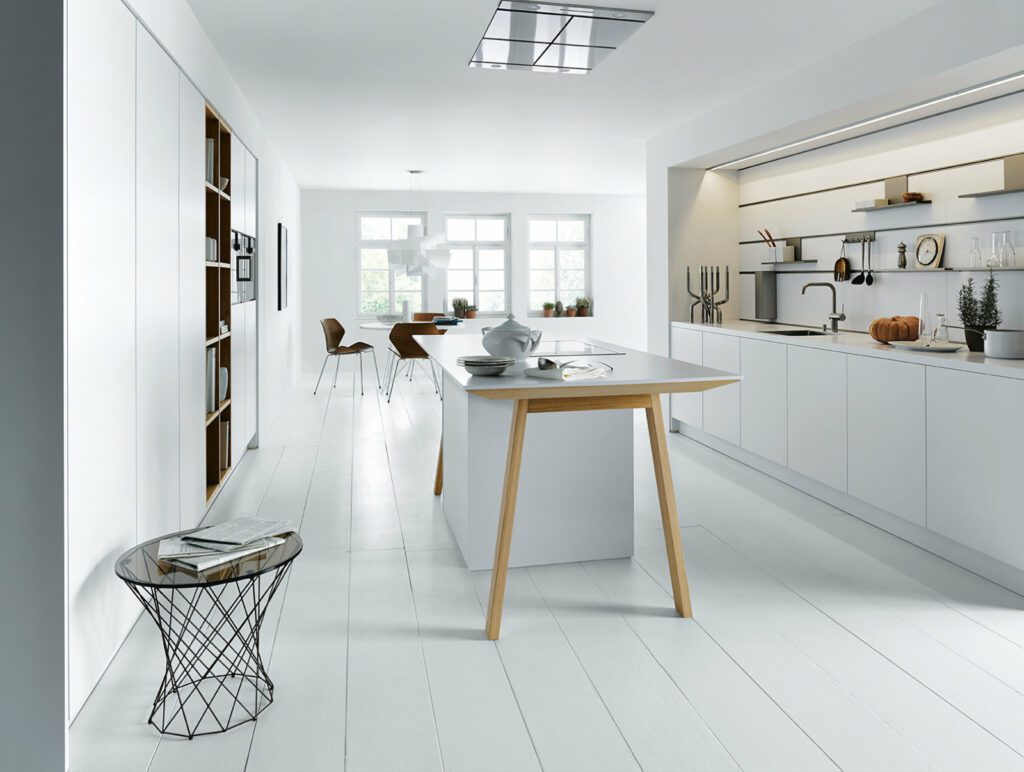 Our Fitted Kitchen Showroom in Dunstable
Meet with us and you will quickly discover how our highly skilled kitchen designers will always take the time to understand exactly what you want and need for your new fitted kitchen design. Employing 30 years of experience and a life-long passion for design, we create beautiful, functional, and affordable fitted kitchens that we know will exceed your expectations. To get started in planning your new kitchen we recommend booking a visit to our Dunstable fitted kitchen showroom today.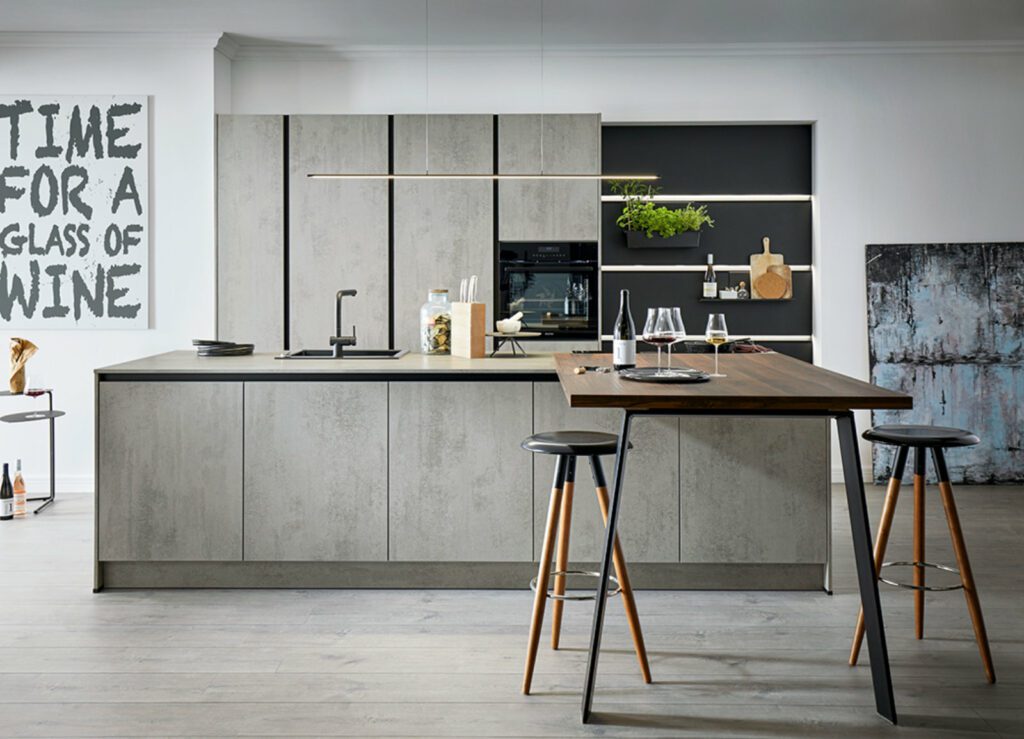 Why Are Fitted Kitchens So Popular?
For years British homeowners and builders alike have preferred fitted kitchens to freestanding kitchen units, with them continuing to be the most popular choice for modern homes. As you will see in the following explanation of fitted kitchens and their benefits, Joshua Donald Kitchens have a deep understanding of the requirements for creating and installing quality fitted kitchens. Coupled with our dedication to customer service and our attention to your personal design needs, this makes us the right choice for our clients looking for a bespoke fitted kitchen in Dunstable. Appointing Joshua Donald Kitchens ensures that you will have a wonderful experience from initial concept to final completion.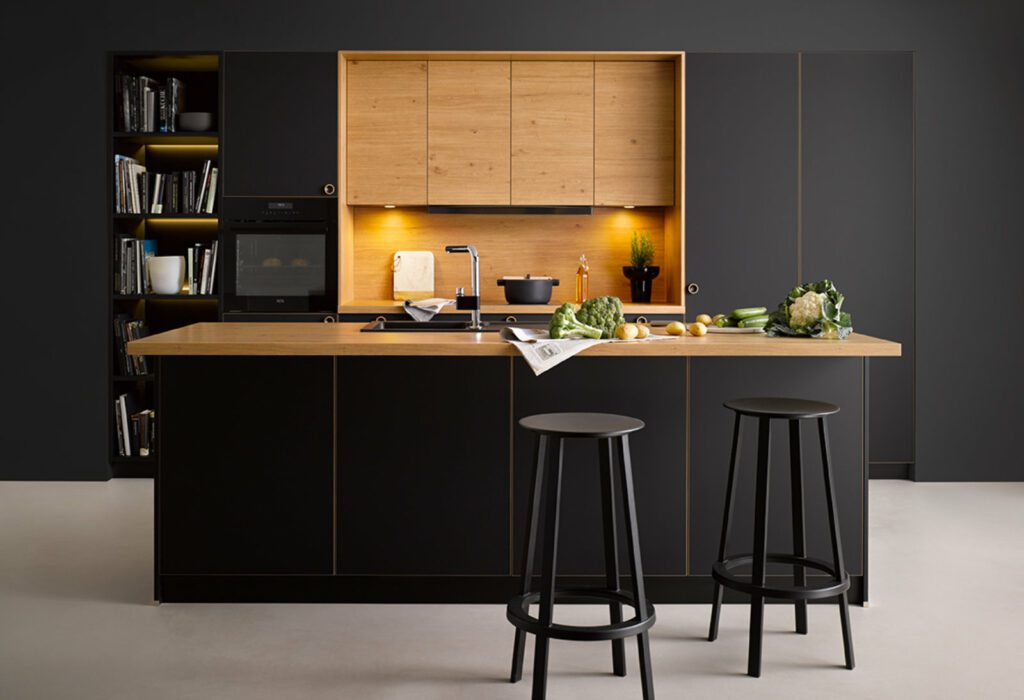 What is a Fitted Kitchen?
A fitted kitchen is a type of kitchen where the cabinets, kitchen units, and appliances are mechanically attached to each other as well as to the walls. This will ensure a smooth, level finish with a seamless fit. Unaligned kitchen cabinets will instantly ruin the kitchen's visual impact and impair its use. It is therefore essential that the fitted kitchen has balance and security. The kitchen is now unified, allowing for seamless kitchen design and comfortable kitchen use. This is what a skilled designer does. But it takes even more to create a flawless fitted kitchen that maximizes space and meets every kitchen owner's individual needs.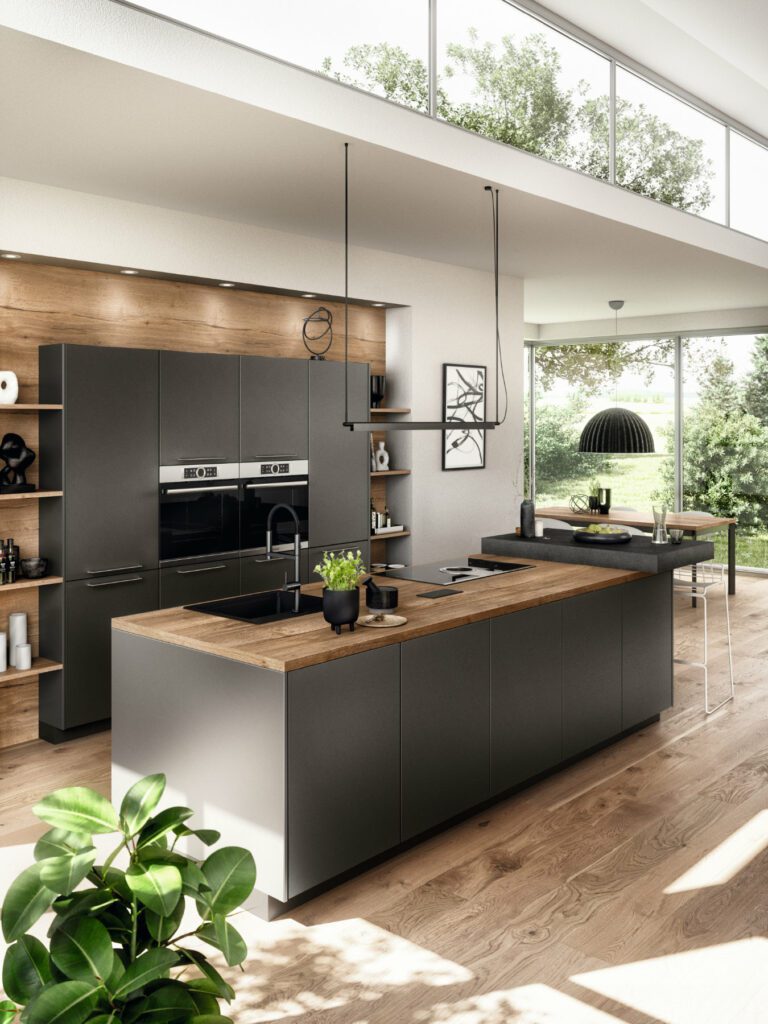 Design Benefits of Fitted Kitchens
Interior designers, architects, and professional kitchen designers like our team at Joshua Donald Kitchens in Dunstable are all likely to prefer fully fitted kitchens for their clients' homes, with few exceptions. Apart from the structural advantages discussed below, there are numerous design benefits to choosing a fully fitted kitchen design over a freestanding one: –
Fitted kitchens maximize space which allows for more storage and makes it easier to access kitchen storage.
Fitted kitchens are more visually pleasing because the banks of cabinets form uninterrupted, clean sight lines.
Fitted kitchens offer more flexibility to kitchen designers looking for features like cantilevers, overhangs, or open units.
Fitted kitchens have greater access to specialist kitchen fittings and fixtures. Fitted kitchens can include corner unit solutions, pull-out kitchen larders, and kitchen tambours.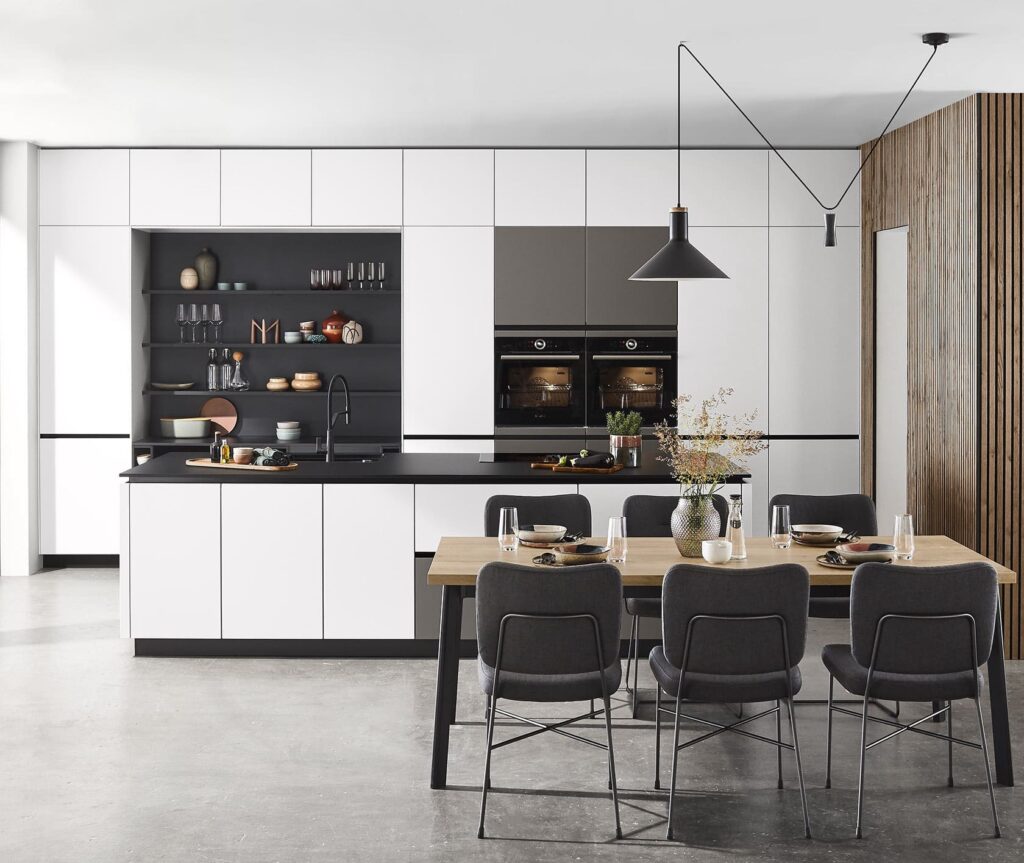 Custom Fitted Kitchens in Dunstable
Experienced and skilled kitchen designers such as those within the Joshua Donald Kitchens team know that people have completely different wants, needs and preferences. As such, all kitchen designs should be unique to suit these. Although space is an essential part of any kitchen design, no matter how large or small the room, a fitted kitchen should be tailored to the individual's tastes and habits. You may need space for dining and relaxing, so a breakfast bar or kitchen island with seating might be best. Or in smaller kitchen spaces, additional storage might be required. A wall unit, larder cabinet, or carousel that maximizes corner space can help improve the layout. A kitchen design must be both practical and functional, but it should also complement all the other fitted furniture. This creates a beautiful visual aesthetic. To unify the design, the best fitted kitchens rely heavily on the knowledge and experience of a skilled designer.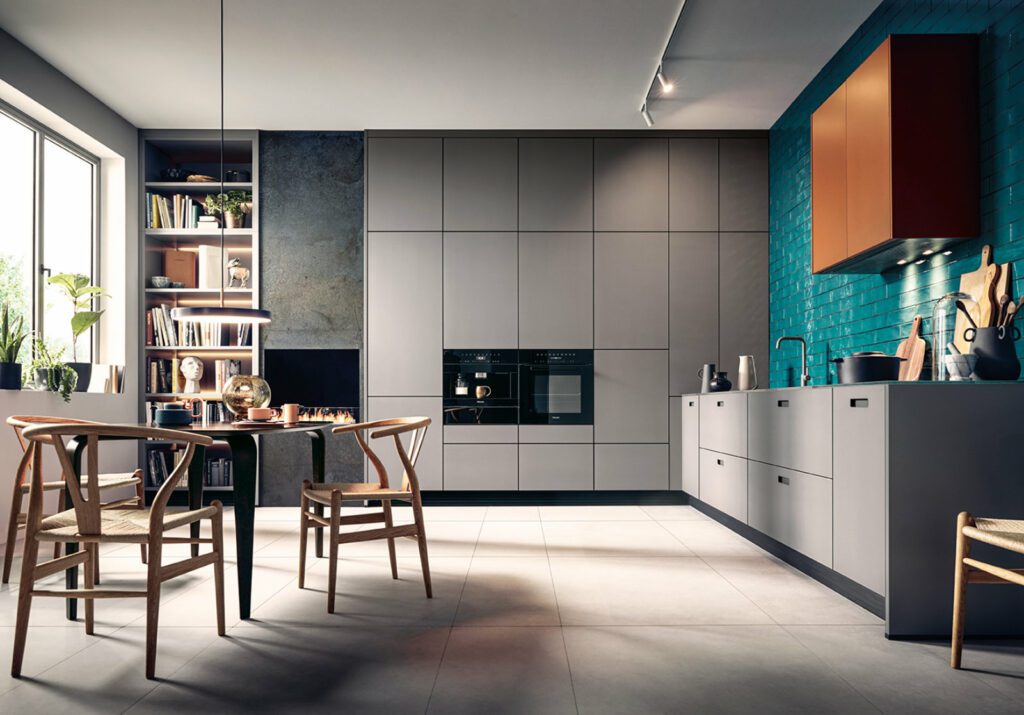 Appliances for Fitted Kitchens
Most kitchen appliance manufacturers such as Siemens, Neff and Bosch offer extensive 'built-in' kitchen appliance ranges that are specifically designed to integrate seamlessly within fitted kitchens. Few would argue that a dishwasher hidden behind a fitted door is more beneficial than a freestanding stainless steel or white plastic unit. And there are many ergonomic reasons to integrate kitchen appliances into a fully fitted kitchen. For example, a mid-height oven can be accessed from the floor while standing, which is safer than one that requires you to bend to reach the floor. Or, to reduce the chance of a pan hitting the floor, a hob that is recessed into a worksurface can also be positioned further back. A freestanding cooker that has a top with a hob is not adjustable in this way.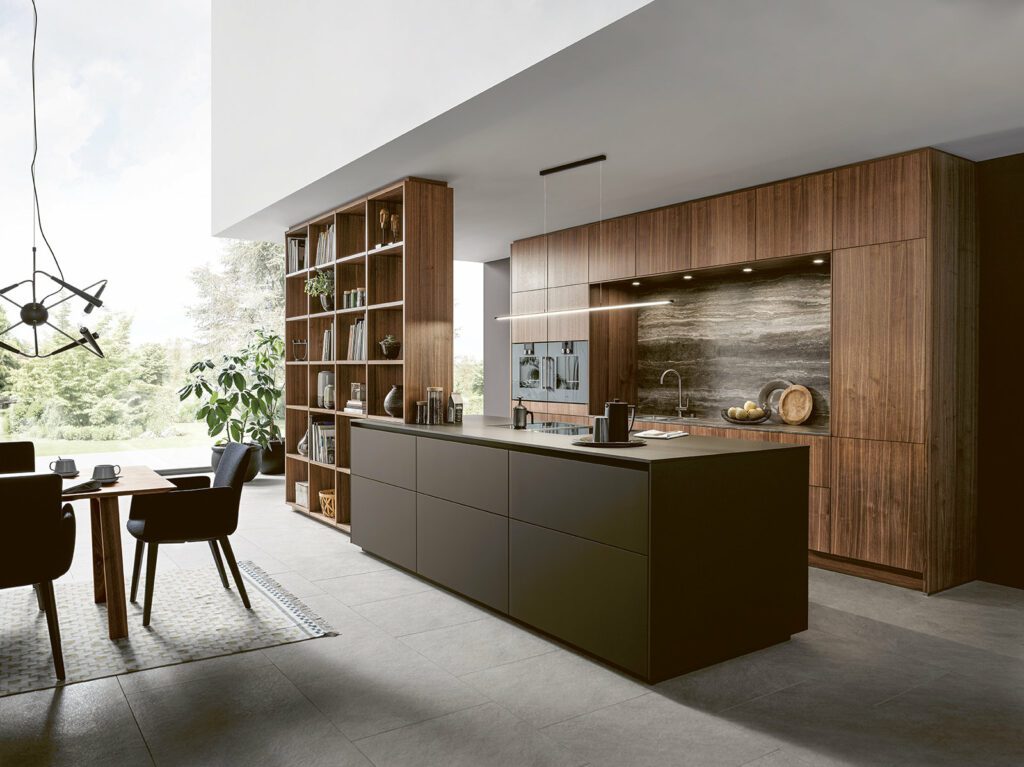 Which Fitted Kitchens Are Best?
It is well known that German kitchen manufacturers excel when it comes to creating innovative, functional, stylish, and long-lasting kitchen furniture.Top German kitchen manufacturers such as Schuller, Next 125 and Nobilia, are known for using top-quality components when producing their fitted kitchens. But this is only half of the story…
…The skill of the kitchen designer is what will determine the practicality, usability, and aesthetics of any kitchen design. Whilst the skill and knowledge of the kitchen fitter is also crucial, including their calibre of tools and how they use them. This will determine how well the kitchen is fitted, how efficient mechanical loads are transferred into the walls and floors of the building, and how level and square the kitchen units. It is therefore important to look at the skills of any kitchen retailer, and not just the products they sell. As a supplier of fitted kitchens in Dunstable, at Joshua Donald we know that the outcome of any new kitchen project is fully dependent on our ability not only to buy and sell, but also to source, design, and install the product!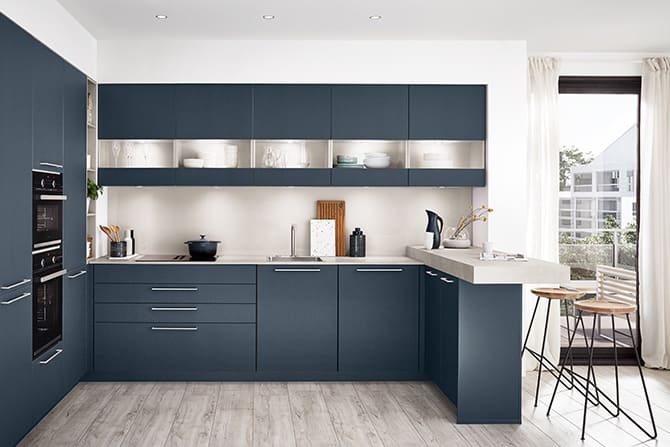 How Much Does a Fitted Kitchen Cost?
The cost of a fitted kitchen depends on many factors, including the size of the kitchen and the choice of furniture and fittings. A cheap kitchen cabinet with low quality chipboard and cheap hinges would cost a fraction of a high-quality fitted kitchen cabinet with a ceramic finish and a top-quality kitchen door from a well-respected manufacturer. Similarly, a laminate worktop would be far cheaper than one made from DEKTON. This is a very compact surface from the manufacturing group, Grupo Cosentino. Whilst an expensive option, it's also very elegant. A good quality fitted kitchen can be purchased from£18,000. But add a kitchen island or premium kitchen appliances, as well as quartz branded worktops and you can expect to pay from £25,000 to £40,000+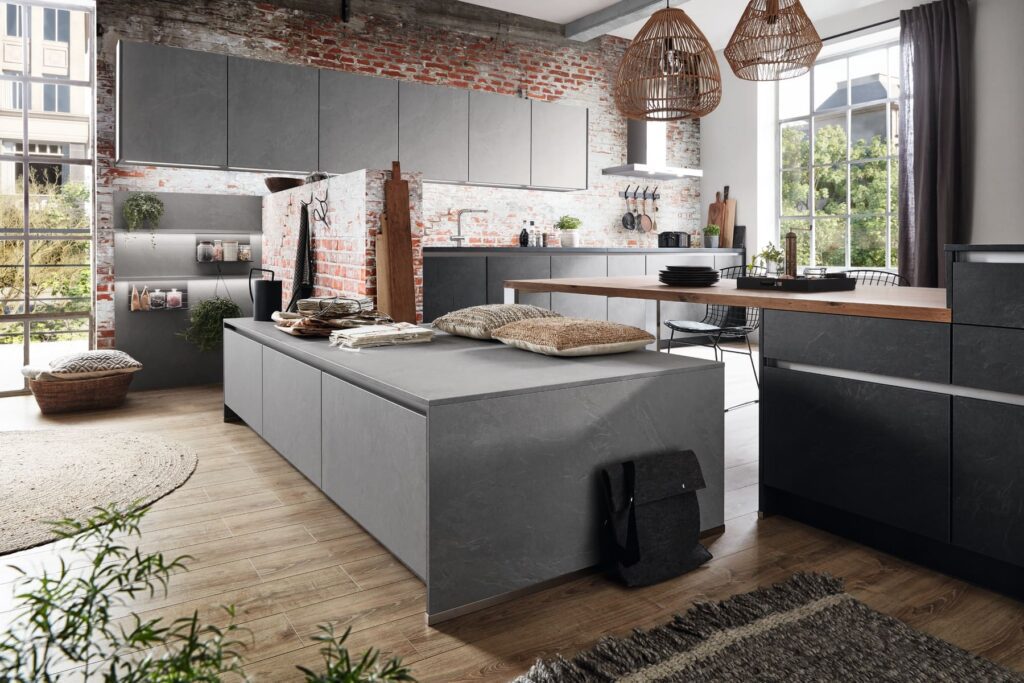 Start Planning Your Fitted Kitchen in Dunstable
For a bespoke fitted kitchen that will delight and inspire, contact Joshua Donald Kitchens today. Whether your space is large, small, or something in between, we can come up with the perfect look and layout, in line with your taste and budget expectations. Book a design appointment at home or in our luxury kitchen showroom, or else please give our friendly team a call with any questions you might have.
Dunstable Kitchen Showroom
The best way to establish if we are the right kitchen design service for you is by visiting us, and we would love to welcome you into our stunning kitchen showroom in Dunstable. Here you can get hands-on in exploring our beautiful range of kitchen products, styles and finishes, and we can discuss ideas and possibilities for your intended design.
Opening Hours
Monday – Sunday: 10:00am – 7:00pm