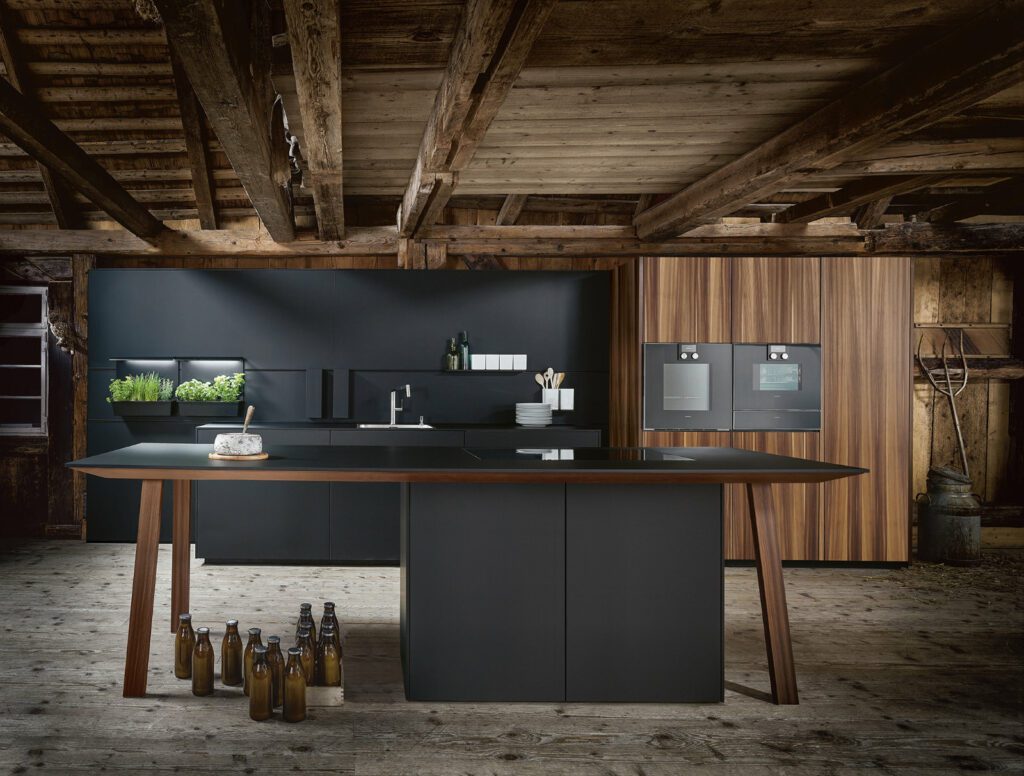 Designer Kitchens Dunstable
Looking for designer kitchens in Dunstable? Joshua Donald Kitchens are Dunstable's leading experts in luxury designer kitchens. We know that achieving a truly stand-out kitchen requires top kitchen designers who live and breathe design, indulging this passion through every project worked on, down to the finest of details. And more than this we understand that a designer kitchen needs to feel special- and personal too. Joshua Donald Kitchens achieve this by ensuring our designers and clients can work together unrestricted in their availability of finishes and design options. This includes access to premium kitchen brands and materials, including kitchen furniture from Schuller, Next 125 and Nobilia, and appliances from top brands including NEFF, Siemens, and Bosch.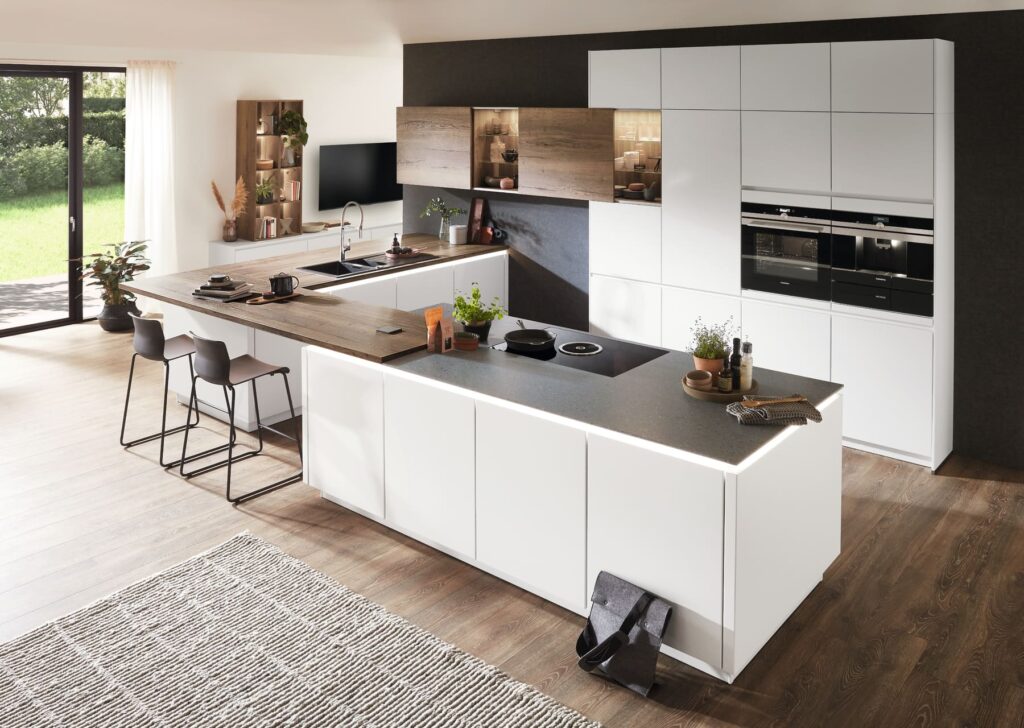 Top Kitchen Designers
Experts in bespoke kitchens, all designer kitchens by Joshua Donald Kitchens are designed and built entirely to order. Yet, high-end kitchen products and furniture can easily be wasted without the skilled 'know-how' to pull them together into a successfully harmonised kitchen look. In this respect Joshua Donald Kitchens inhouse professional kitchen design team are more than qualified to achieve the designer kitchen look and layout you want for your home. It is the top kitchen designer with an eye for detail who can create the preferred designer kitchen look, but an even better one who can combine this look with a functional and efficient kitchen layout, and also within a specified budget.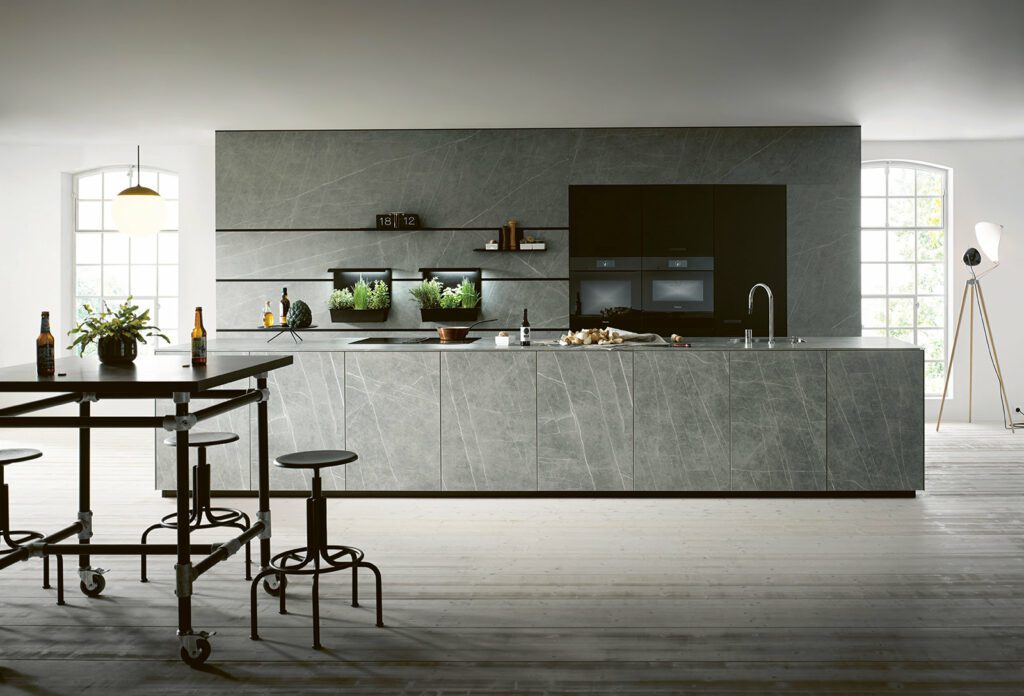 What is a Designer Kitchen?
Designer kitchens are synonymous with luxury, quality, and style, making a chic impact on your home. An emphasis on their look means such kitchens are heavily design-led and so tend to reflect cutting-edge kitchen trends, ideas, inspirations, and influences. But teamed with their luxurious look is the superiority of the materials used in their creation. At Joshua Donald Kitchens our designer kitchens in Dunstable are skilfully engineered from concept into reality through the expert knowledge and precision of our kitchen designers, in conjunction with the quality of materials at their disposal. This includes the latest innovations and technologies of our high-end kitchen furniture and appliance brands. In a designer kitchen these elements combine aesthetic appeal with advanced functionality, maximising the homeowner's comfort, pleasure, and efficiency of use.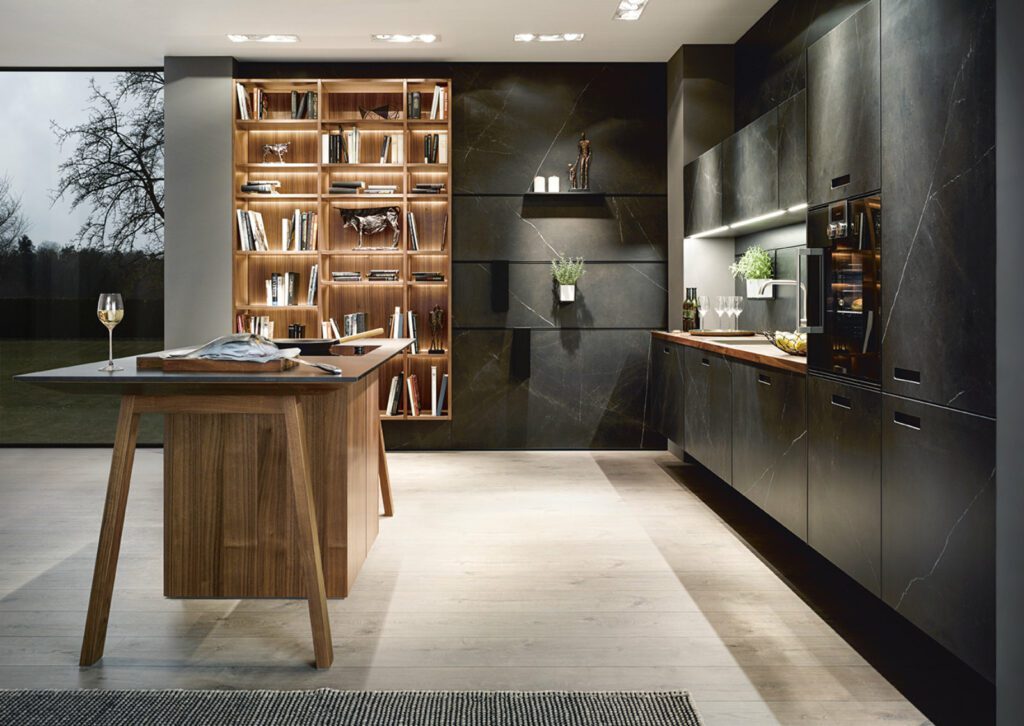 Designer Kitchens in Dunstable By Joshua Donald Kitchens
Perfect for creating a designer kitchen look, our award-winning German kitchen manufacturers, Schuller, Next 125 and Nobilia, specialise in luxury kitchens that combine contemporary style with cutting-edge functionality. This includes impressive features such as floating kitchen solutions, anti-fingerprint doors, extensive colour palettes and beautiful real wood kitchen ranges. Each manufacturer has a drive to deliver on-trend yet lasting products, making them an excellent choice for a high-end kitchen look!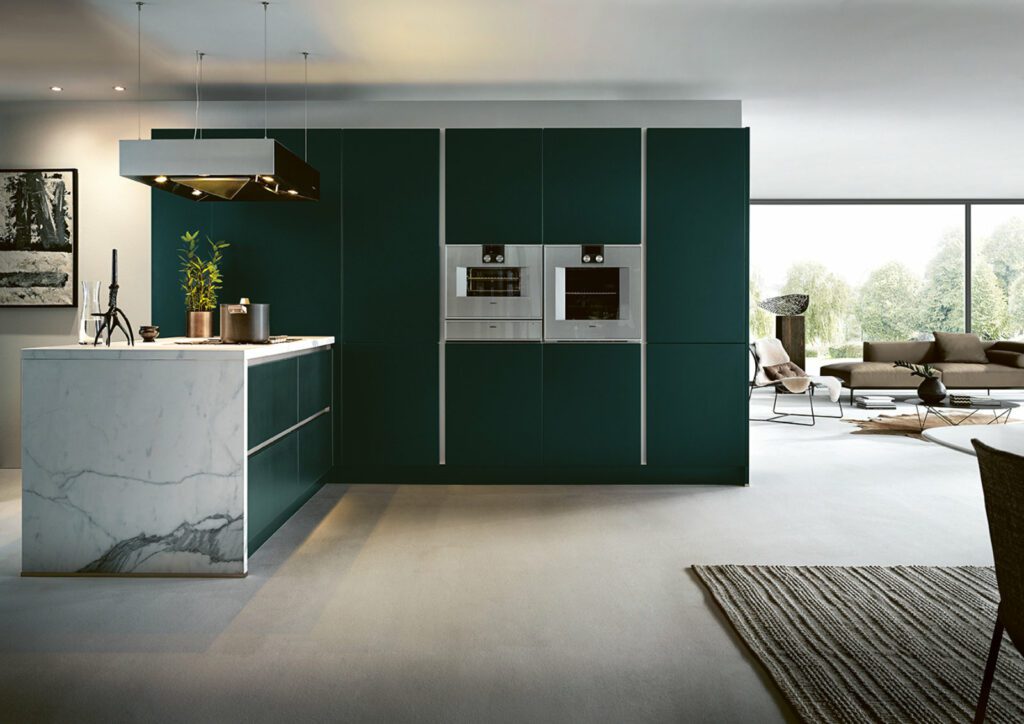 What are the benefits of having a designer kitchen?
Designer kitchens are typically found in luxury homes, bringing much pleasure to home life, and making for easy, multi-functional use of the modern kitchen. A well-planned kitchen can also prove a great investment, adding value should you ever wish to sell your home. The benefits of designer kitchens include improved functionality, more storage space, and a better overall aesthetic. They also offer a great opportunity for personalising your kitchen, creating a unique and distinguished look for your home.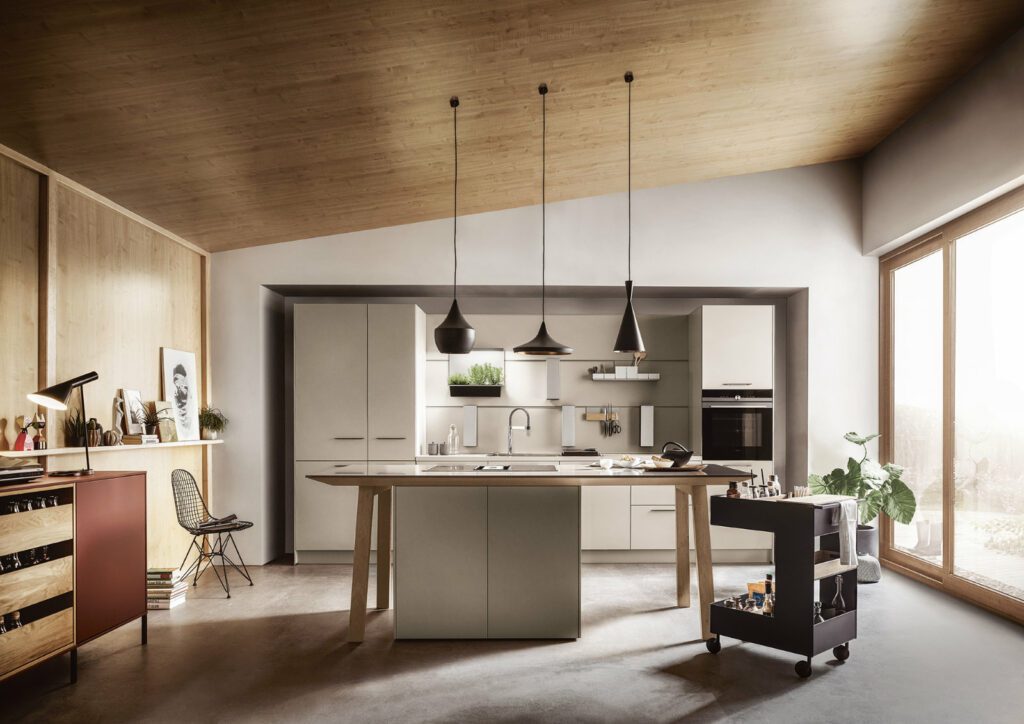 Designer Kitchen Cabinets and Furniture
Designer kitchen cabinets and furniture stand out from lower spec kitchen units and doors because of the superior materials used within their construction, as well as within the construction itself. The kitchen furniture brands used for creating designer kitchens is usually more flexible than standard kitchen ranges, often including custom options such as bespoke cabinetry sizes or paint colours. This is ideal for achieving a truly personalised kitchen look and layout which fully meets user expectations and requirement. Luxury designer kitchen cabinets tend to incorporate statement materials such as concrete, ceramic, glass, and metallics, but there are many different styles and materials to choose from, so you can be sure to find the perfect cabinets for your taste.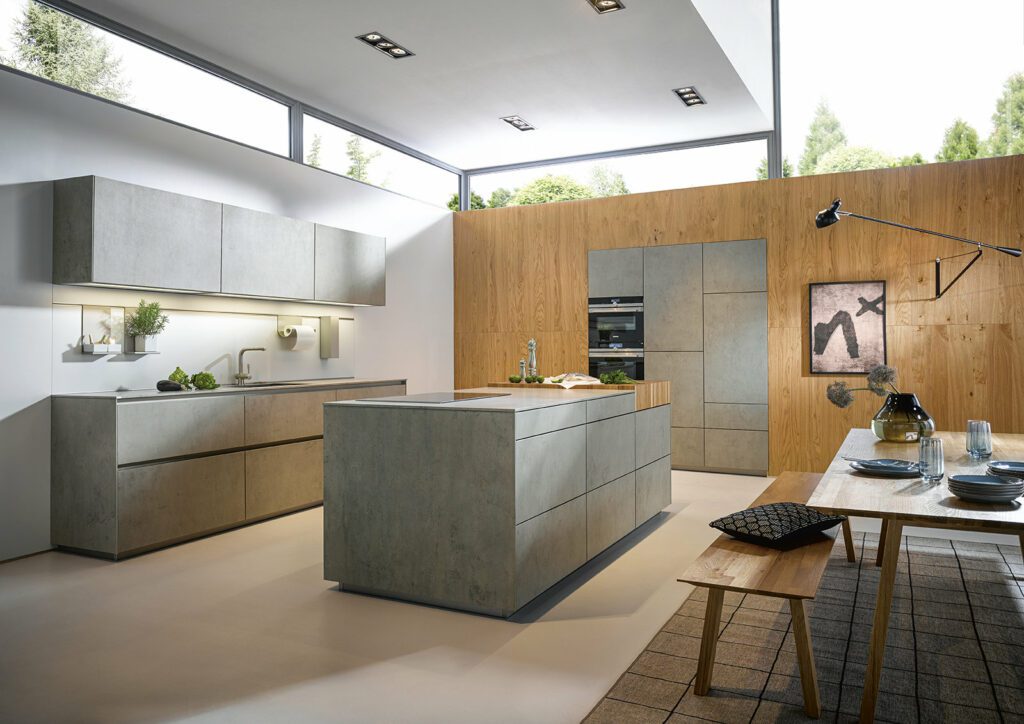 Designer Kitchen Accessories
Designer kitchen worktops are another way to add style to your designer kitchen, and available in a wide choice of materials, surface patterns, and even thicknesses which will enhance the beauty of your designer kitchen. Designer kitchen backsplashes are also a great way to add personality and style to your designer kitchen. Again, there are many different materials and designs to choose from, so you can find the perfect backsplash for your needs. Designer kitchens typically have designer lighting too. Lighting is one of the most important aspects of designer kitchens, since it gives them their unique look and feel. At Joshua Donald Kitchens we are experts in Interior Design so can help you choose the perfect lighting to compliment your kitchen and help effect the 'Designer' feel you are hoping to achieve.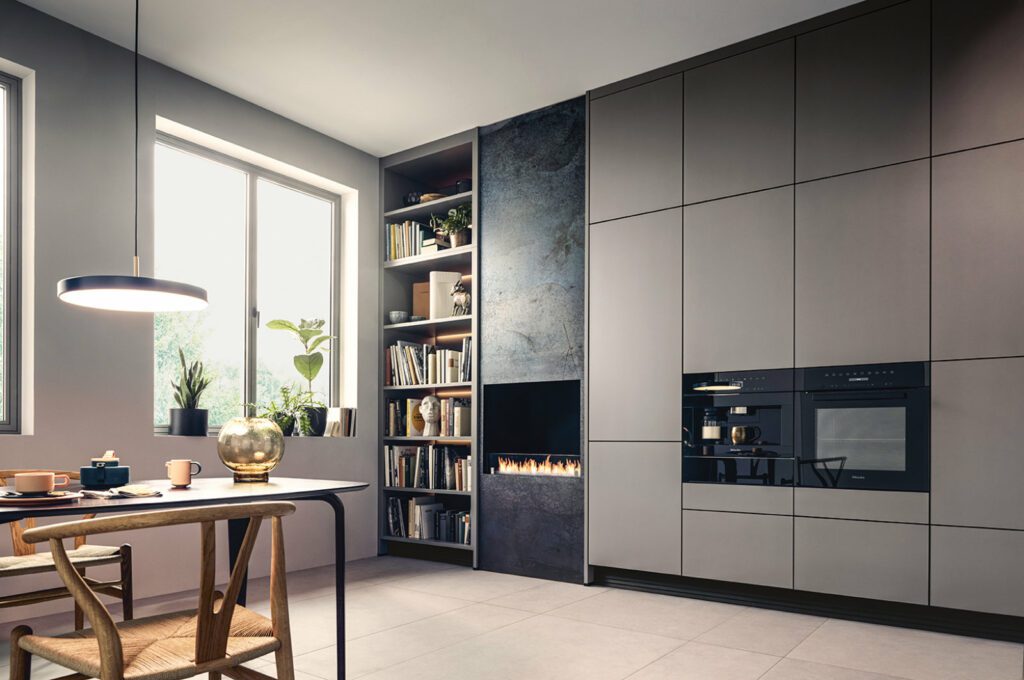 Designer Kitchens 2022
Over the years the Joshua Donald Kitchens team have created many stunning designer kitchens in Dunstable and across Bedfordshire. In doing so we recognise the increasing demand for kitchens as multi-functional spaces; that is, an area not just for cooking and eating but a living space too, whether for working, relaxing, or entertaining family and friends. And now more than ever the kitchen needs to be more than practical but a beautiful space too; one that offers a sense of luxury and indulgence. For modern designer kitchens in 2022 homeowners want statement surfaces such as veined marble, granite, and wood, proving lavish yet also highly durable. Minimalist kitchen styling in neutral and natural colour schemes already proves popular, appearing effortlessly luxurious whilst facilitating everyday family life. And in keeping with the trend towards natural materials, many homeowners also want to make use of their outdoor space, creating outdoor designer kitchens with statement sinks, worktops and even fridges for the ultimate sense of indulgence!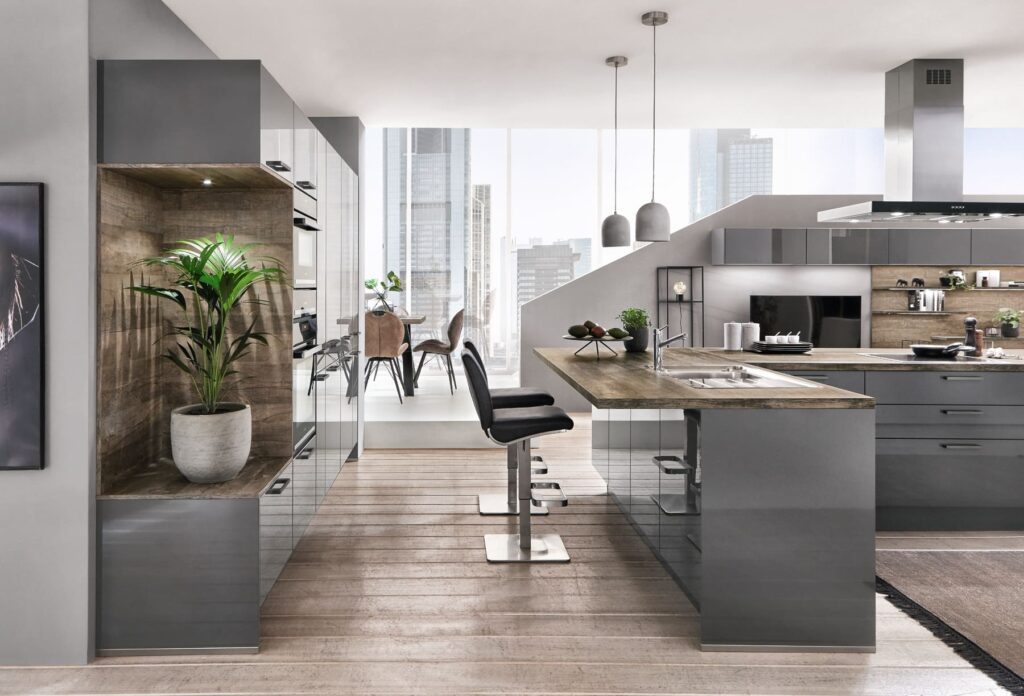 How Much Does a Designer Kitchen Cost in 2022?
The price for a designer kitchen in the UK typically starts from £30,000 to £55,000+ The size of the room is a large determinant of cost, as well as the quantity of appliances and size of worktop required. But the cost can increase significantly depending on the kitchen brands and finishes you choose. The more refined your materials, the more you can expect to pay, and similarly if the latest and best kitchen appliance technology is a 'must have' then you can expect to pay a premium for this.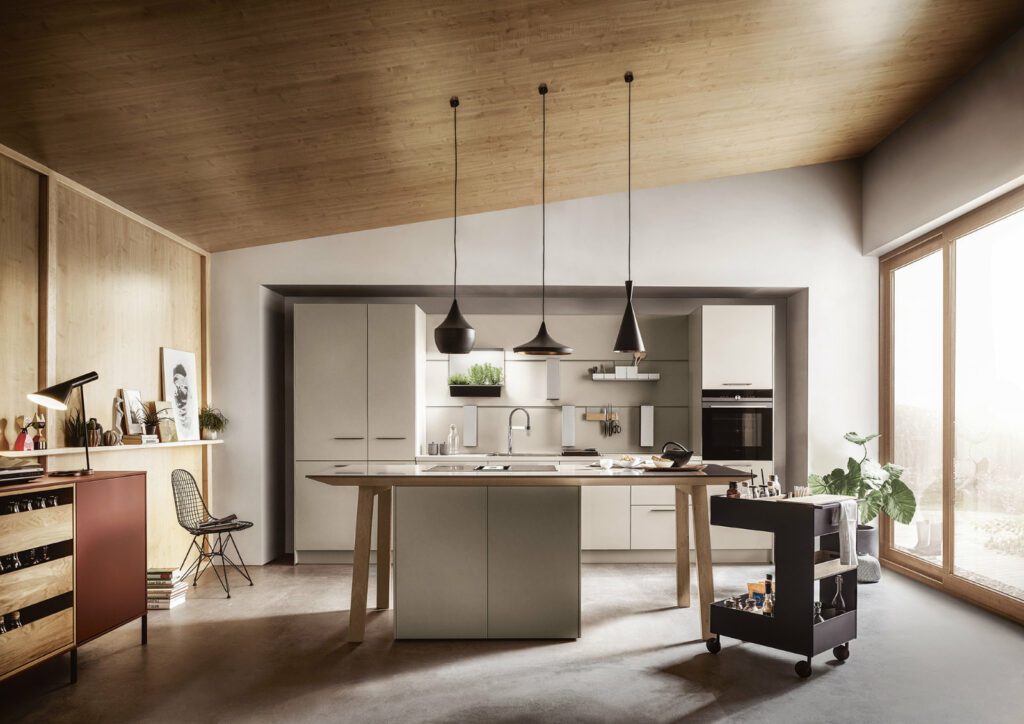 Allocating Budget For a Designer Kitchen
When it comes to kitchen planning, the average cost breaks down at 60% for kitchen furniture, 15 percent for appliances, 15% for worktops and 10% for kitchen fitting. Yet, homeowners often have very different priorities when it comes to allocating their financial project budget, and this is often largely influenced by their lifestyle. For example, someone who is extremely passionate about cooking might choose a stylish but cost-saving, stone effect kitchen door in laminate, yet spend £50,000 on state-of the art kitchen appliances. Alternatively, if a user doesn't cook but likes to entertain, they might spend less on their appliance brand and functionality, but instead focus their budget on bespoke finishes and impressive designer kitchen features such as a waterfall island, champagne trough, pocket doors, a bespoke wine rack etc!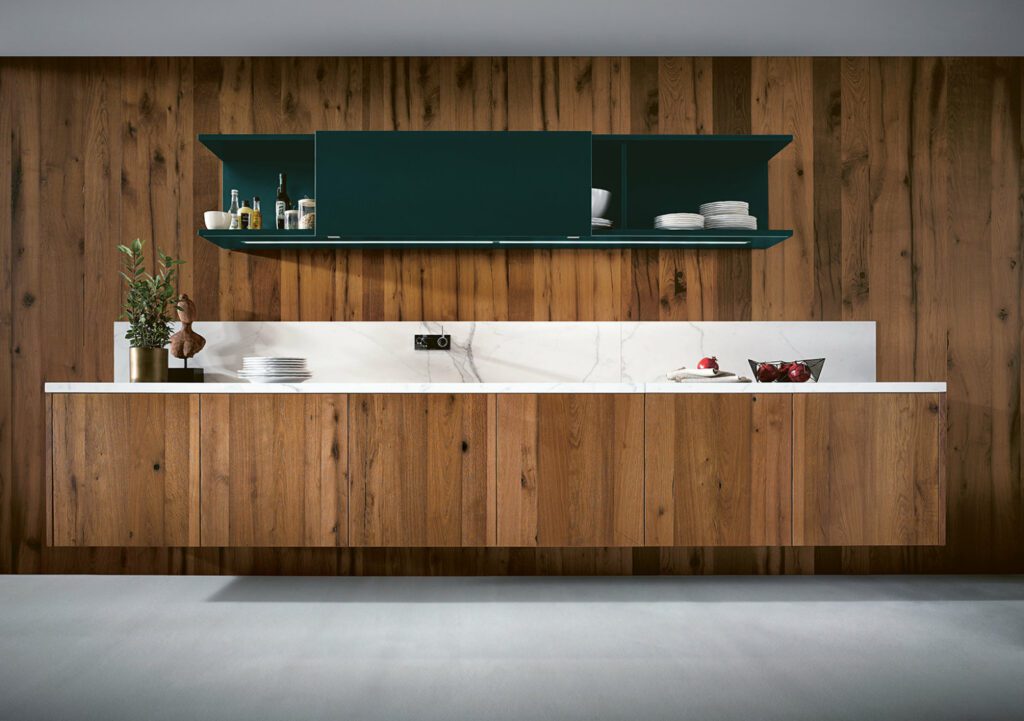 How can I Achieve a Designer Kitchen Look for Less?
At Joshua Donald Kitchens each designer kitchen project that we undertake starts with a design consultation at our luxury kitchen showroom in Dunstable. During this time, we will work closely with you, knowing the best questions to ascertain your priorities for your new kitchen; this includes your lifestyle and cooking preferences, how much storage you need, and how you want to use the space. We can discuss all options with regards layout, finishes, appliances, and colours, and from here we can start to incorporate products within your design which we know will meet your tastes as much as the budget you specify.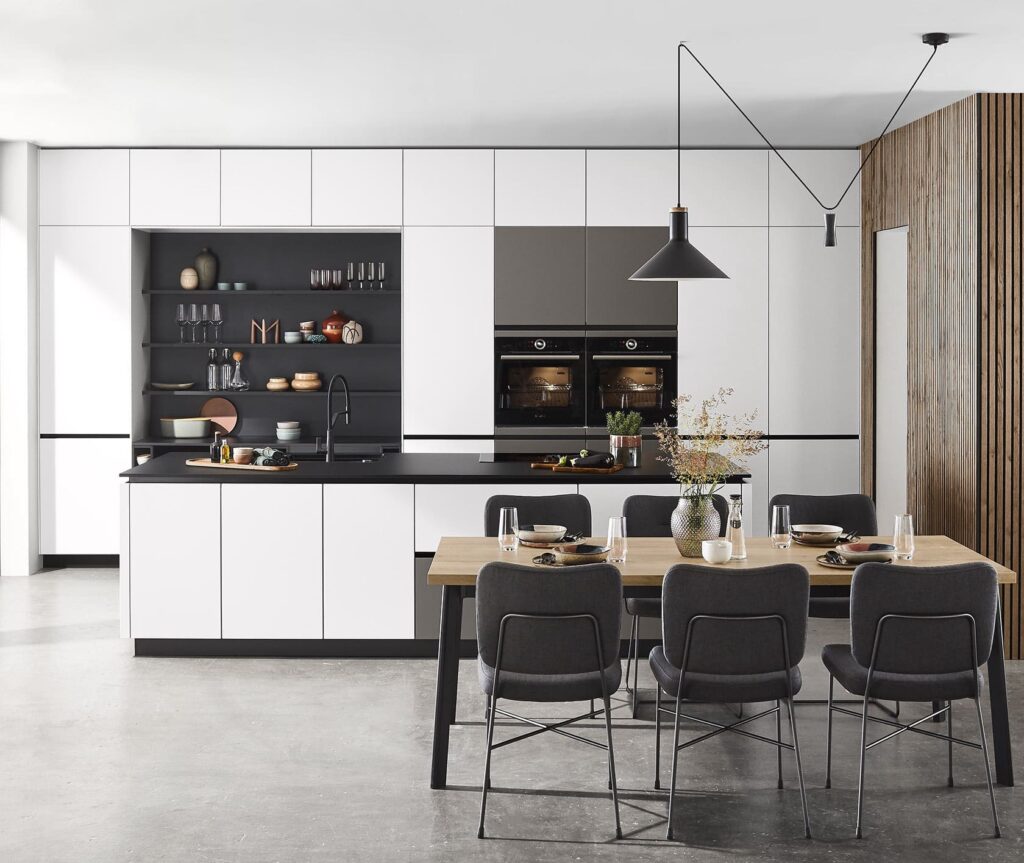 Work with our Expert Kitchen Designers!
If it's a designer kitchen look you want but you're on a tighter budget, then we still have the know-how and skill to achieve this for you. Keeping your preferred choices in mind our designers can suggest clever and subtle alternatives in other areas of your kitchen, helping bring down the overall cost. Similarly, we have many striking finishes that replicate more expensive finishes, such as marble worktop alternatives, or laminate kitchen doors that are hard to tell apart from real stone. Our kitchen designers are experts in choosing the right materials, finishes, and options to meet your price expectations.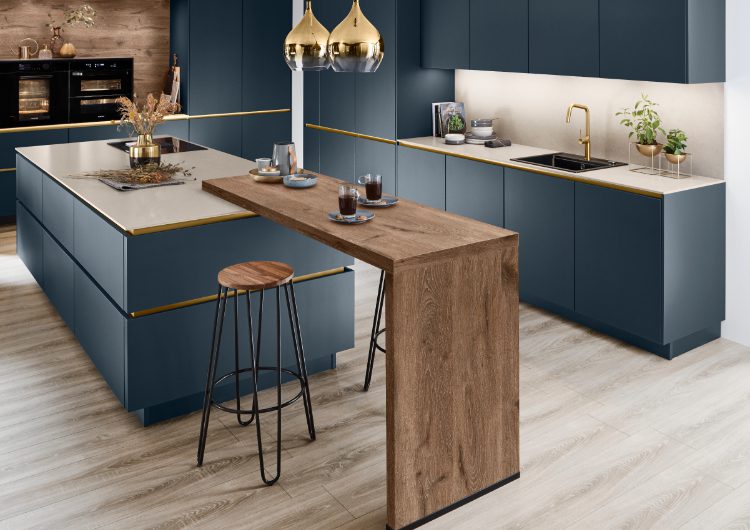 Visit Our Luxury Designer Kitchen Showroom in Dunstable
With the assurance that all our kitchen installations represent high quality looks, style, and manufacture, we welcome you to visit our Designer kitchen showroom in Dunstable and view our chic kitchen concepts first-hand. In this way so you can see, touch, and realise the beauty of our products for yourself, fully appreciating what sets a Designer kitchen apart from the rest.
Find Out More In An Appointment
Dunstable Kitchen Showroom
The best way to establish if we are the right kitchen design service for you is by visiting us, and we would love to welcome you into our stunning kitchen showroom in Dunstable. Here you can get hands-on in exploring our beautiful range of kitchen products, styles and finishes, and we can discuss ideas and possibilities for your intended design.
Opening Hours
Monday – Sunday: 10:00am – 7:00pm